Outraged Londoners took to the streets of their city on Wednesday to express solidarity with the victims of the recent Grenfell Tower fire and voice anger at the government policies they argue led to the disaster.
The "Day of Rage" march, which is taking place on the hottest day of the year so far in London, is a display of political discontent following the fire last week that claimed the lives of nearly 80 people and comes as community members lay blame at the feet of Prime Minister Theresa May and her Tory-run government which has pushed deep cuts to public housing amid broader austerity measures targeting low-income and working-class Britons.
People carried signs reading "Justice for Grenfell Victims" and decrying the fire as "Corporate Manslaughter."
Shaima Alsitrawi, a 32-year-old childcare worker, explained to the Guardian why she was marching. "A few days ago I went to the site of Grenfell with my friends to help volunteer, and when I saw the building in front of me, looking dark and burnt, it really hit me," Alsitrawi said. "Speaking to people there about their experience and their story, it was horrific. They are part of the community, part of us, we have a responsibility to raise our voice for justice and equality in society. They haven't been treated as equal as the rest of the community in that borough."
As Common Dreams reported last week, many in the immediate wake of the fire highlighted the institutional and economic policies that led to the devastation and cited frequent safety warnings that were ignored by the Tory government.
In addition to demanding those displaced by the fire be provided with new and better public housing—including calls for empty luxury flats to be made available for their behalf—the protesters on Wednesday want a full investigation into those who managed the building and their dealings with government agencies.
On social media, the #DayofRage hashtag became a cesspool of right-wing reaction, as opposed to an organizing platform for those engaged with the march and its message:
Several marchers who spoke to the Guardian rejected the idea, promulgated in the British tabloid press, that public "rage" over the Grenfell fire was somehow misplaced and rejected those who equated the expression of legitimate rage with violence.
"Nearly every person I speak to is furious to the point of apoplexy," said Pip Marsh, 44, who works for a research company. "The rightwing press's modus operandi is to debunk protests. It's a Tory tool. If you get people frightened enough you can get them to do anything. Every single person I've spoken to here is lovely."
And Kelcy Davenport, a PhD student at the march, added, "They take the word 'rage,' which is justified, and try and intimidate you away from those feelings by saying it's going to be violent. It's like saying you're not allowed to be angry or outraged."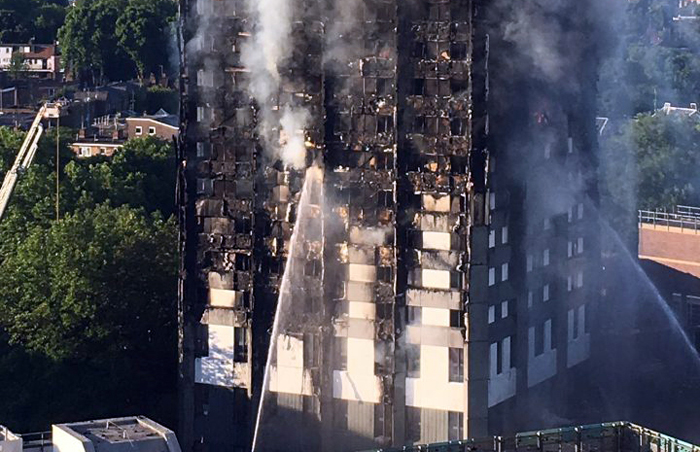 Jon Queally

Pressenza IPA

Creative Commons