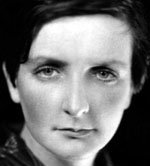 Limerick writer, Kate O´Brien (1897-1994), is to be honoured by the Spanish town of Ávila, Spain, by having a street named after her.
The veneration of Teresa of Avila influenced Kate O´Brien´s fictive representations of women. She wrote Teresa of Avila (1951) and gave a series of radio talks on the saint for Radio Éireann in 1969.


The formal ceremony will take place on Tuesday 27th September 2011.
José Antonio Sierra, erstwhile director of the Spanish Cultural Institute/Cervantes of Dublín (1971-1994), had been a tireless advocate, since 2005, of the plan to honour Kate O´Brien by the town of Ávila.
The Glucksman Library at the University of Limerick currently holds a large collection of O'Brien's personal writings. The Kate O'Brien Weekend, which takes place in Limerick, attracts a large number of people, both academic and non-academic.
She has the distinction of having been banned in both Ireland (Mary Lavelle and The Land of Spices) and Franco's Spain (Farewell, Spain).
Kate O'Brien's family home in Mulgrave Street, Limerick has sadly fallen into disrepair despite being described as being of  "architectural, artistic and historic interest", according to the National Inventory of Architectural Heritage (NIAH).